Sony DSC-S650 Accessories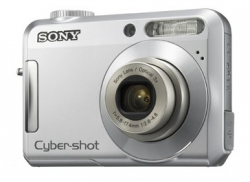 Start enjoying all the possibilities of your camera with this selection of accessories for Sony DSC-S650. Every item on this page has been carefully selected by our experts to make sure they are 100% compatible with your camera, such as memory cards, tripods, bags, energy... the most essential products you need for your camera.
In the recommended section you will find the unbearable items every owner of a Sony DSC-S650 should own.
Please don't hesitate to contact us if you have any doubts or questions. We're here to help you find the correct item for your camera.
Recommended accessories for Sony DSC-S650
High efficiency eneloop batteries
Pre Charged and rechargeable
High capacity: 1900 mAh

Learn More

Panasonic original charger
Compatible with AA and AAA batteries
Comes with 4 AA Eneloop batteries

Learn More

Coupling t-lock system
Pocket for memory cards
Lightweight and versatile

Learn More

Wide-mouth opening
Pocket for memory cards
Lightweight and versatile

Learn More

Features a quick release shoe
Light and stable tripod
Maximum height of 1400mm
Maximum load capacity 3 Kg

Learn More

Uses a 1/4" universal thread
Folds down to 18.5cm
Maximum height of 130mm
Ideal for your travelling
Tabletop tripod

Learn More

Monopod for your DSLR or compact camera
Maximum height of 1650 mm
Loading capacity: 6 kg
Comes with a comfortable wrist strap
Flip locks to adjust leg sections

Learn More

High Speed data transfer with 50MB/s
Great performance in your camera
Supports burst mode and HD videos

Learn More

Flash memory card
Storage Capacity: 4 GB

Learn More

Card reader all-in-one
USB 2.0 Connection
Plug and Play
CF, SD, MMC and MS

Learn More

Wide angle conversion lens for compact cameras
Works with 23 to 27 mm diameter lenses
Easy to install: magnetic system
More viewing angle for your shots
Two adapter rings, a bag and a little strap

Learn More

USB cable for Nikon, Olympus and Fuji cameras
Transfer data from your camera to your computer
High transfer speed

Learn More

Continuous light without flickering
Ideal for your outdoor photography and portrait sessions
Runs up to 10h
Includes a home and car charger
Works as a fill light or light painting
Replaces the use of heavy lights or flashes, a studio in your backpack

Learn More

6in1 cleaning kit
Keep your gear in perfect condition
6 accessories to keep your camera spotless
You can always carry it in your backpack

Learn More

4 Coloured backgrounds included
Ideal for product photography
Removes unwanted shadows
Simply unpack and go

Learn More