Sony Alpha A35 Accessories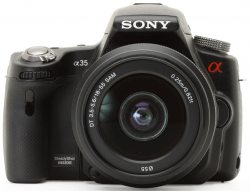 This is a complete selection of accessories for Sony Alpha A35 where you will find everything you need to take full advantage of your camera. The selection has been made by our experts based upon their professional experience and opinions from customers such as yourself.
You will find filters, flashes, photo bags, lenses, cleaning and protections accessories and much more. And don't forget about our section of recommended items, necessary accessories to get the most out of your Sony A35.
Please don't hesitate to contact us with any questions you may have.
Recommended accessories for Sony Alpha A35
Sony Compatible Charger for Home and Car
Replaces the original BC-TRW Sony charger
Works perfectly with original batteries

Learn More

Equivalent to the original battery
Ideal replacement or spare battery

Learn More

Stamina system battery
Features AntiFORCE technology
Genuine Sony battery
Ideal spare or replacement

Learn More

Sony Original Battery Charger
Integrated LED Lights
Compact and lightweight

Learn More

Canvas style fabric
Can be easily rotated
Customizable divider system
Removable interior divider

Learn More

Orange interior so you can easily find accessories
Padded and adjustable compartments
Padded shoulder straps provide comfortable transportation
Various capacities;Choose the model that suits you!
Includes a tripod pocket; leaves your hands free to shoot
Direct access to the camera for maximum speed
Removable multipurpose interior is ideal for any situation!
Includes rain cover (AW)

Learn More

Capacity for a DSLR + zoom lens (80-400mm)
All-Weather cover (AW)
Padded interior
Zipped pockets

Learn More

Carry all your equipment in this Manfrotto backpack
Padded interior keeps safe your camera gear
Carry a tripod on the exterior part
Durable materials

Learn More

Stores small accessories and personal items
Direct fast access to the camera
Includes rain cover
Protect your equipment

Learn More

Includes rain cover
Padded interior / modifiable compartments
Front pocket for fast access
Connect a tripod

Learn More

3 Piece close-up macro filters
Available in different diameters: choose yours
Allows macro shots using your lens
Increments of +1, +2 and +4 diopters
The economical choice for macro lenses

Learn More

Enter the world of infrared technology
Get attractive and astonishing effects
Suitable for both colour photography and B/W
Blocks visible light and lets infrared light pass
This filter is recommended by professional photographers
Choose the appropriate diameter for your lens

Learn More

Gloxy high quality neutral density filter
Reduces the light in a 25%; two steps
Reduces light penetration by 25% (two steps)
Produce soft, blurry and flowing waters
No more overexposures

Learn More

The most needed filters in photography
Made of high-quality optical glass
Work perfectly with any HD or UHD camera

Learn More

Modify different levels of ND from ND2 to ND400
Control the depth of field in your photos
Ideal in situations with strong light
Allows increasing the exposure time of photographs
Compatible with black and white photography
Protective pouch included
Available for various lens diameters

Learn More

Protects the front of the lens
Protects against scratches, repels dust and water splashes
Extremely fine; no vignetting appears
Select the correct diameter for your lens

Learn More

Filters certain rays of light
Ideal to eliminate reflections from glass or water
Improves contrast and colour saturation
Perfect for landscape photography

Learn More

Special effect 6 pointed star filter
Available in several diameters: 52, 55, 58, 62 and 67mm
Ideal for night photography using artificial light
Creates a star-shaped effect

Learn More

Extreme grip and very resistant, holds up to 40kg

Clampod: an all-purpose mini tripod
Will adapt with an extreme grip to any type of surface
Ideal for extreme sports, movies while in motion
Use it with DSLR, compact cameras and smartphones
Optional adapters for tablets and GoPro
"Selfies" and movies anytime, anywhere

Learn More

Maximum height 1626mm
Maximum load capacity 10kg
4-section feet and closure tabs
Ball head with quick relaease plate
Spirit level on the ball head
New: hook on the central column
Feet include metal and rubbers tips
1/4" universal thread and 1/4" to 3/8" screw adapter

Learn More

Gloxy tripod with 3 way head
Maximum height of 1675 mm
Loading capacity: 3 kg
Spirit level + quick release plate
Closure tabs on the legs
Comfortable grip to handle the camera

Learn More

Gloxy GX-T6222A tripod with ball head
Maximum height 1626mm
Maximum load capacity 10 Kg

Learn More

Monopod for your DSLR or compact camera
Maximum height of 1650 mm
Loading capacity: 6 kg
Comes with a comfortable wrist strap
Flip locks to adjust leg sections

Learn More

Made of magnesium alloy and aluminum
Large maximum load capacity of 8kg
Hydraulic locking system for precise control
Quick release plate for maximum comfort
Gradual indicator on the base

Learn More

Supports a maximum load of 6 kg
Control the exact movements of the ball head
Features quick release plate

Learn More

Electronic ball head with 1/4" screws
Ideal for panorama and time-lapse shots
Set speed, time and rotation angle
Suitable for GoPro, smartphones, DSLR, CSC...
Great rotation angle from 5º to 360º
Automatic, intuitive and easy use

Learn More

Integrated bubble level
Wide platform
Smooth fluid movements

Learn More

Supports up to 4kg
Built-in quick release
Comfortable handles

Learn More

Sigma flash for Sony / Minolta hot shoe cameras
TTL Compatible ADI/DI (P-TTL)
Diffuser included, autozoom head
Guide number 61 (ISO 100)

Learn More

High-quality flash
Easy operating
Automatic fill-in flash
Stroboscope mode

Learn More

Powerful, guide number 61, ISO 100
Supports TTL with your Sony Camera
Zoom from 24mm to 105mm
Bounce and tilt head to reflect the light

Learn More

Flash modifiers with universal compatibility
Revolutionary attachment with magnets
Flexible, durable and easy-to-use accessories
You can combine each other
Band attachment, gels, grid and transport bag
Your MagMod Kit ready to start

Learn More

20 colour gels for creative effects in your photos
Compatible witht the Gloxy flashes GX-F990 and TR-985 or any other flash with similar size
Three attachment bands included, use them with three flashes simultaneously
The filters are separated according to colour and filter type

Learn More

BounceLite: a new concept of flash modifier
Works perfectly in social photography
It is an easy-to-use and simple accessory
2 in 1: works as diffuser and reflector
Compatible with most brands of flashes
6 coloured gels are included

Learn More

Huge storage capacity of 32GB
Fast read speed of 85MB/s
Fast data transfer up to 45MB/s

Learn More

Capacity for 8 memory cards
Store and protect your SD, SDHC or SDXC cards
Protects cards from shock, dust and dirt
Water-resistant, safer

Learn More

Case for SD, SDHC or SDXC Memory cards
Carries up to 4 memory cards
Strong and resistant for more protection
Keychain to attach whenever necessary
Choose your colour: red, yellow, grey or green

Learn More

High Speed data transfer with 50MB/s
Great performance in your camera
Supports burst mode and HD videos

Learn More

Ultra-high performance
Low energy consumption
Integrated error correction technology (ECC)
Long lifetime

Learn More

Fast speed class 10 card
Read speeds of 85MB/s
Record in Full HD

Learn More

Transcend SD Memory Card
Capacity 2GB
High speed: 133x

Learn More

Class 10 compliant
Fast transfer speed of 45MB/s

Learn More

Flash memory card
Storage Capacity: 4 GB

Learn More

Card reader all-in-one
USB 2.0 Connection
Plug and Play
CF, SD, MMC and MS

Learn More

Conversion Lens Gloxy Mega Kit
Wide Angle, Telephoto, Macro and Adapter Rings
Maximize your lens performance
Fits 52, 55 and 58 mm diameter lenses
High optical quality, perfect for Full HD

Learn More

Magnification of 1.5x and 2.5x
Suitable for 35mm SLR cameras
Macro photography lenses

Learn More

Compatible with lenses between 52mm and 67mm diameter
The most popular Macro lens
Incredible results with insects and tiny objects
It has 8 diopters of magnification

Learn More

Gloxy megakit with 3 conversion lenses
Wide-angle, telephoto and macro lenses
Fits 58, 62 and 67 mm diameter lenses
No distortion, HD compatible lenses
New life for your camera (compact or DSLR)

Learn More

Compatible with Canon, Nikon, Sony, Pentax and Olympus
Free macro lens
Includes three adapters: 52-58mm / 55-58m / 62-58mm

Learn More

Comes with a free macro lens
Incredible fisheye effect for your standard lens
Fresh and funny photos and videos
Front lens cover, back cover and protective bag included

Learn More

Conversion factor of 0.45x
Includes free macro lens
Fast auto-focus

Learn More

Works with 58mm lenses
Amplification factor 4x
Front diameter of 72mm
Close up macro lens
Learn More

Telephoto lens converter
Compatible with 58mm cameras
Ideal for nature photography

Learn More

2 in 1 wide-angle and macro conversion lens
Designed for 67mm diameter lenses
HD quality for your camera

Learn More

Gloxy Wide Angle Conversion Lens
0.5x Conversion factor
Fits 58 mm diameter lenses
Compatible with HD, no distortion
Broads the field of vision of your lens

Learn More

Ideal for indoor, architecture and landscape shooting
Features 2 aspherical AS lenses and one lens constructed from extra-low dispersion glass

Learn More

UMC coated lenses
Ideal for landscape photography
Fast f/1.4 maximum aperture

Learn More

Very bright lens
Angle of view 84º
For Sony Alpha / Minolta mounts

Learn More

Effective low light shooting
UMC lens coatings
Wide angle focal length

Learn More

Ideal for landscape and architectural photography
Great value for money
UMC coatings reduce lens flare

Learn More

Tamron AF 70-300mm Lens for Sony cameras
Compatible with Sony cameras with sensors APS-C and Full-Frame
Learn More

Bright lens
Light, easy to carry lens
Ideal for nature and portrait photography
Compatible with Sony cameras

Learn More

Compatible with Sony cameras
Sturdy metal body
Multi-layered coating UMC

Learn More

Compatible with all DLSR cameras
Solid metal casing
Super telephoto lens

Learn More

Prevents light from hitting the front element from the sides
Collapsible : 3 positions in 1
Eliminates flare
Protects your lens from bumps
Choose the diameter of your lens

Learn More

Prevents wayward light entering the lens
Flower-shaped, perfect for wide angle
Protects your lens
Avoids flares and intrusive lights

Learn More

Remote control JJC RM-S1 replaces the remote controls Sony RMT-DLSR1 and RMT-DSLR2

Learn More

Endless possibilities for your Sony camera
Great for night photos and long exposures
Replaces the Sony RM-DR1, RM-S1AM and RM-VPR1
Infrared technology: 5 meters distance
Set 999 series of 9 photos each
Highly useful and easy to use

Learn More

Limited time offer, buy 2 and save an extra £30
Continuous light
Ideal for your outdoor photography and portrait sessions
Runs up to 10h
Includes a home and car charger
Works as a fill light or light painting
Replaces the use of heavy lights or flashes, a studio in your backpack

Learn More

Continuous light without flickering
Ideal for your outdoor photography and portrait sessions
Runs up to 10h
Includes a home and car charger
Works as a fill light or light painting
Replaces the use of heavy lights or flashes, a studio in your backpack

Learn More

54 high light intensity LEDs
Compatible with DSLR and video cameras
Female 1/4"-20 thread and standard shoe mount
One grey filter, one orange filter, get the light you want
Standard shoes mounts on the sides
Includes brighness adjustement and battery light
Lightweight, compact, portable, high quality and long operating life
Colour temperature: 5600K

Learn More

Do not lose your caps anymore
Attach it to your camera and protect it
Works with a sticker (included)

Learn More

Protective lens cap for your camera
Easy and fast: snap-on coupling
Chose your diameter filter

Learn More

6in1 cleaning kit
Keep your gear in perfect condition
6 accessories to keep your camera spotless
You can always carry it in your backpack

Learn More

High-quality neck strap for your camera
Comfortable padded material to protect your neck
Easy and quick fasteners
Adjustable: from 61 to 130 cm

Learn More

Completely adaptable
Touch fastener closure
Fast Connector (FC) system

Learn More

Enjoy Macro with your Sony camera
Reduce your lens focus distance
3 extension tubes included: 12, 20 and 36mm
Compatible with Sony A mount

Maintains autofocus and TTL auto exposure

Economic choice for macro; great results

Learn More

Minimum focus distance of 0.3m
The angle of view is 180º

Learn More

Features ultra multi-coating (UMC)
Designed for DSLR video recording
Great in low light conditions
For Sony A Cameras

Learn More

Minimum focusing distance of 11.8" for great close up shots
Depth of field markings assist in pulling focus

Learn More

Samyang wide angle lens
Compatible with Sony Alpha / Minolta DSLR
Ideal video and photo lens

Learn More

Obtain more stability for your videos
Ideal for urban recordings or for recording extreme sports
Compatible with all cameras and all brands
Connection with a 1/4" thread
Foam covered handle to avoid slipping and for more comfort

Learn More

Lens especially designed for recording
Compatible with digital SLR cameras and mirror-less compact cameras Sony M-mount APS- C sensor

Learn More

Samyang 50mm cine lens for Sony A
Sharp, luminous and precise videos
Geared focusing and aperture rings
50mm: a focal length you will always need

Learn More

3 Lenses and Samyang case
Easy to transport
Ideal for recording video
For Sony cameras

Learn More

3 VDSLR Lenses
Record high quality video
Compatible with follow-focus systems
Ideal for outdoor filming

Learn More

Supports cameras up to 1.0kg
Lightweight and compact
Super smooth filming, no camera shake

Learn More

Enjoy new possibilities and accessories
Make the best use of your DSLR camera
Get new creative possibilities with the 2 lenses included
Includes a cleaning kit made for your equipment
The 4 filters provide you some original creative effects
Estimated at over 300 euros

Learn More

4 Coloured backgrounds included
Ideal for product photography
Removes unwanted shadows
Simply unpack and go

Learn More