Olympus SZ-16 Accessories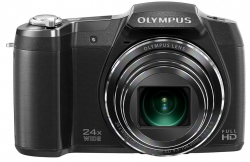 Using reviews from users like you, our specialists have made a selection of accessories for the Olympus SZ-16. They have been selected for their compatibility and because they are a great addition to this camera. The accessories are divided into groups on the left side of the screen; you will find tripods, flash guns, battery chargers, etc, simply click on the group of articles you are interested in.
And don't forget about our section of recommended items, necessary accessories to get the most out of your Olympus SZ-16.
Please don't hesitate to contact us with any questions you may have.
Recommended accessories for Olympus SZ-16
Battery Charger for Olympus cameras
Works with the LI-50 lithium battery
Car plug is included

Learn More

100% compatible lithium-ion battery
Replaces the original Olympus LI-50B battery
Also compatible with Pentax D-Li92, Ricoh DB-100 / LB-050
No memory effect

Learn More

Rechargeable Lithium-ion battery
For Olympus TG-835, TG-850, TG-860 and more
Rechargeable with both LI-50C and UC-50 chargers

Learn More

Coupling t-lock system
Pocket for memory cards
Lightweight and versatile

Learn More

Features a quick release shoe
Light and stable tripod
Maximum height of 1400mm
Maximum load capacity 3 Kg

Learn More

Uses a 1/4" universal thread
Folds down to 18.5cm
Maximum height of 130mm
Ideal for your travelling
Tabletop tripod

Learn More

Monopod for your DSLR or compact camera
Maximum height of 1650 mm
Loading capacity: 6 kg
Comes with a comfortable wrist strap
Flip locks to adjust leg sections

Learn More

Compatible with all cameras with a built-in flash
Slave functionality, can be triggered by another flash light
Wireless synchronisation

Learn More

Improve the quality of your photos with the Extended Range Digital Flash for Olympus SZ-16
Automatic light control
Compact and very powerful

Learn More

BounceLite: a new concept of flash modifier
Works perfectly in social photography
It is an easy-to-use and simple accessory
2 in 1: works as diffuser and reflector
Compatible with most brands of flashes
6 coloured gels are included

Learn More

Flash modifiers with universal compatibility
Revolutionary attachment with magnets
Flexible, durable and easy-to-use accessories
You can combine each other
Band attachment, gels, grid and transport bag
Your MagMod Kit ready to start

Learn More

20 colour gels for creative effects in your photos
Compatible witht the Gloxy flashes GX-F990 and TR-985 or any other flash with similar size
Three attachment bands included, use them with three flashes simultaneously
The filters are separated according to colour and filter type

Learn More

MagMod MagGel: support for coloured gels
8 different colours
Neutral Density and opaque filters included
Easy-to-use magnet attachment
Great effects with the gels

Learn More

Huge storage capacity of 32GB
Fast read speed of 85MB/s
Fast data transfer up to 45MB/s

Learn More

Capacity for 8 memory cards
Store and protect your SD, SDHC or SDXC cards
Protects cards from shock, dust and dirt
Water-resistant, safer

Learn More

Case for SD, SDHC or SDXC Memory cards
Carries up to 4 memory cards
Strong and resistant for more protection
Keychain to attach whenever necessary
Choose your colour: red, yellow, grey or green

Learn More

Ultra-high performance
Low energy consumption
Integrated error correction technology (ECC)
Long lifetime

Learn More

Fast speed class 10 card
Read speeds of 85MB/s
Record in Full HD

Learn More

MicroSD memory with SD adapter
Great for smartphones, GoPro, tablets and more
Capacity of 1 GB

Learn More

Transcend SD Memory Card
Capacity 2GB
High speed: 133x

Learn More

Card reader all-in-one
USB 2.0 Connection
Plug and Play
CF, SD, MMC and MS

Learn More

Professional SDHC Lexar Memory Card
High performance in DSLR and camcorders
Improved transfer speed: 1000x, 150MB/s
Class 10 speed ensures good workflow

Learn More

Wireless Gloxy remote control: 5 meters range
Numerous functions, ergonomic design and LCD display
Replaces the Olympus RM-UC1 remote control
Ideal for night photos, time-lapses, lightpainting and long exposure
Set up to 999 series of 9 photos each

Powerful infrared technology: distance of 100 meters
A complete intervalometer: 999 blocks of 9 pictures
Change the shutter speed in every series
Perfect for nature and night photography, lightpainting
Multi-exposure mode for HDR technique
Compatible with Olympus cameras

Learn More

Genuine Olympus Camera Trigger Cable
Suitable for numerous Olympus cameras
Perfect for long exposure photography

Learn More

Continuous light without flickering
Ideal for your outdoor photography and portrait sessions
Runs up to 10h
Includes a home and car charger
Works as a fill light or light painting
Replaces the use of heavy lights or flashes, a studio in your backpack

Learn More

Limited time offer, buy 2 and save an extra £30
Continuous light
Ideal for your outdoor photography and portrait sessions
Runs up to 10h
Includes a home and car charger
Works as a fill light or light painting
Replaces the use of heavy lights or flashes, a studio in your backpack

Learn More

Ewa-Marine underwater case for compact cameras
Dives up to 10 m depth
Great for Sony V1 and other compact cameras

Learn More

6in1 cleaning kit
Keep your gear in perfect condition
6 accessories to keep your camera spotless
You can always carry it in your backpack

Learn More

Essential Illumination kit
Compatible with most cameras
Flash syncs automatically
Charger for AA and AAA batteries

Learn More

4 Coloured backgrounds included
Ideal for product photography
Removes unwanted shadows
Simply unpack and go

Learn More